Dear Johnny: Why do people take so many AP Classes and then complain about it?
Hang on for a minute...we're trying to find some more stories you might like.
Dear Johnny,
Why do people take so many AP Classes and then complain about it? I'm a junior this year and I have only 4 AP classes. They are not that bad yet, but my teachers are pretty great. Some of my friends are taking 5 or 6 AP classes and that's making me stressed out. They cannot stop complaining and complaining about their classes! This is legit how they make me feel:
I definitely did not sign up for this! Normally, during refuel, we would talk about so many funny things, and now it's just AP Calculus this, AP US History that! They're all really fun, but their teachers seem to be piling on more and more homework apparently. I cannot stop doing this when they talk on and on about school, school, and more school: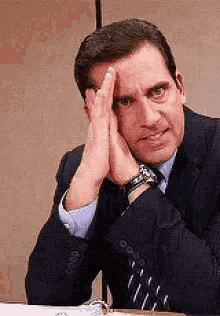 How can I let my friends know that they need to stop complaining and have a life outside of school, but nicely? Please answer!
~ Annoyed Anonymous
Dear Annoyed Anonymous,
Don't panic; there are a couple of ways to let your friends know.
Be bold and direct and tell them. Let your friends know that they need to chill out with talking about their classes and that it is better for them to calm down and talk about other things. I know this option might seem a bit risky and could potentially cause fights amongst your friend group, but my advice to you would be to let it all out. I personally had several experiences my junior year where I kept everything bottled up and it DID NOT work out in the end.
Be sly. If option 1 seems too scary, this option is for you. Let your friends know slyly if you can talk about something else or slowly divert the topic to something else. Maybe laugh a little to decrease the tension if it is that bad!
Hang out with other friends. I know this seems like a weird option, but if you are too scared about hurting your friend's feelings by letting them know the truth, you might be a person who is more willing to help by letting them realize by themselves. Hang out with some other friends for some time and maybe they will take the hint. I personally would not do this, but some friend(s) did this to me. I did not like it, but someone might.
I hope that helped!
~ Johnny the Jet